Careers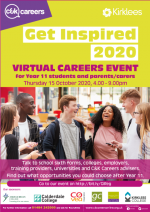 Get Inspired 2020  
A careers event for Year 11 students and their parents/carers  
The Get Inspired event showcases the range of opportunities available to young people after Year 11. The free event will take place on:  
Thursday 15 October 2020, 4.00 – 9.00pm – Online, drop in between these times   
 The event is organised for Year 11 students and their parents/carers and will complement any careers conventions held in schools. You will be able to speak to staff from schools, colleges and training providers, as well as higher education institutions and a number of large employers. C&K Careers staff will be on hand to offer advice and to discuss future options such as full-time education, traineeships and apprenticeships.  
A series of short presentations about post-16 options and more will be repeated throughout the events. 
The events are for all young people - those who know what they want to do after Year 11 and those who are undecided. You're welcome to drop in anytime from 4pm.
Further details and a list of exhibitors can be found at: https://ckcareersonline.org.uk/news-2/349-get-inspired. 
You can register for the event at: http://bit.ly/GIReg
Additional information about the event including a full list of exhibitors and presentations go to www.ckcareersonline.org.uk. If you have any queries about the event, please call C&K Careers on 01484 242000 or email events@ckcareers.org.uk
Parents & Carers eBook (May 2020)
NLC Careers Programme Planning Years 7-13 
NLC Careers Update and Online Learning Resources (July 2020)
Version 2 KS3 Career learning at home (July 2020)
Y10.S3 - Session 1 - CV's Card Sort UNIFROG DISTANCE RESOURCES (July 2020)
V2 KS4 CEIAG remote work for students (July 2020)
Careers Leader
Sarah Timberley

Unifrog
KS4 and KS5 students at NLC can easily find and apply for every University course and apprenticeship in the UK, using Unifrog.
Notes on signing up for Unifrog for the first time.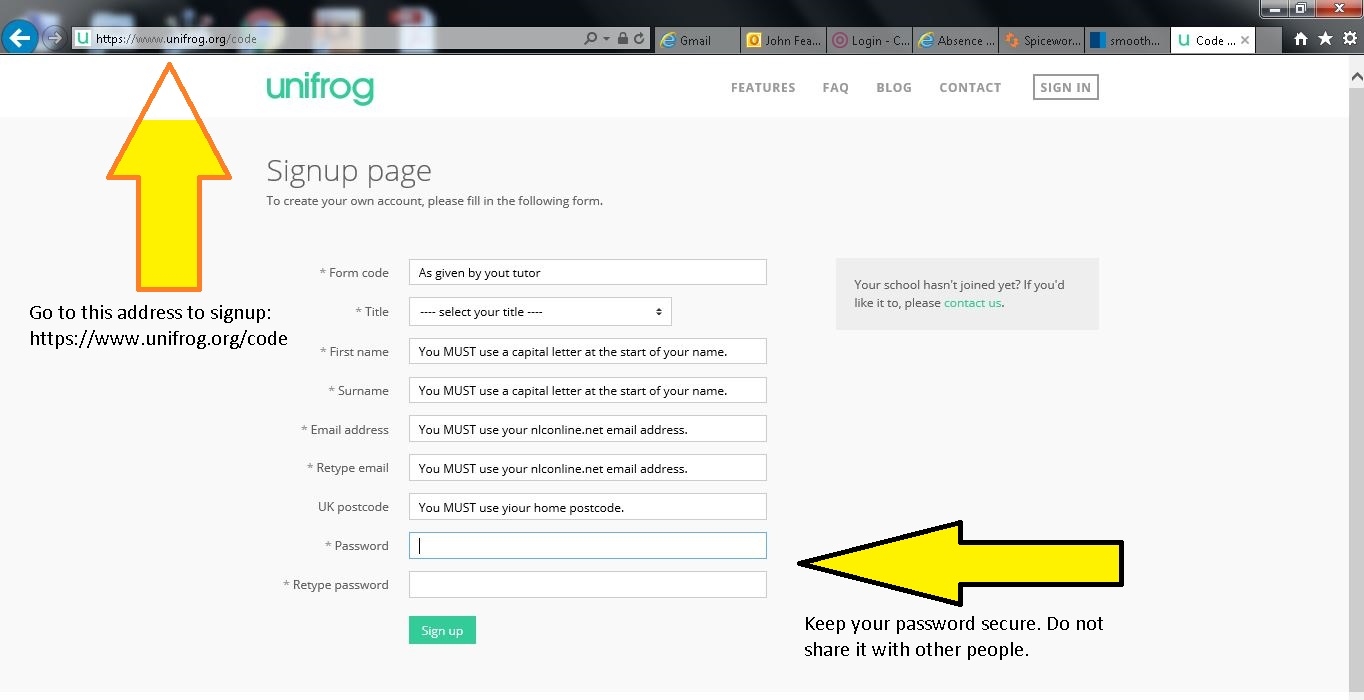 You must use your nlconline.net email account to signup for Unifrog.
Latest Apprenticeship News
Please click here for a Parent Guide to Apprenticeships: - Parent-Pack-January-2020
Please click here for an interview with Harry who completed an apprenticeship -
Careers Events & Virtual Resources
| | | |
| --- | --- | --- |
| Discover Creative Careers | This website brings together courses, competitions and activities around the creative sector all in one place for students to explore. | |
| UCAS Virtual Tours | UCAS are offering virtual tours of a number of Universities to support KS5+ in their University choices. | |
| | | |
| --- | --- | --- |
| Think Ninja | This resource offers support and skills for children and young people (10-18 years old) who may be experiencing increased anxiety and stress during the crisis. | Think Ninja [website] |
| | | |
| --- | --- | --- |
| Leap skills - Unite Students | This resource is designed specifically for 17-18 year olds to help better prepare them for independent living. Drawing on video content and a digital game, it introduces a number of student life scenarios to provoke group discussion on conflict resolution, problem solving and a general insight into shared living. | LeapSkills-ParentResource [PDF] |
| | | |
| --- | --- | --- |
| Capgemini Virtual Interview KS5 | Capgemini have created a mock digital interview for students. Digital Interviews are the norm for at least the initial stages of recruitment so this is a chance for the students to check it out and see what its like. | Capgemini Virtual Interview KS5 [website] |