Church links
We are a voluntary controlled Church of England school, belonging to the Diocese of Leeds. This means that we have close links with our local church, St James, which is just a short walk away from school. We value the times we spend in the Church, including our special Harvest, Christmas and Easter services to which parents and community are invited. We are currently awaiting the appointment of a new Reverend in our parish but in the meantime we continue to work closely with our vicar Reverend Ericcson to carry out collective worship both here and at the Church.
Meet our Reverend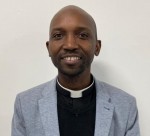 Hi, my name is Reverend Ericcson Mapfumo, and l have recently moved to Huddersfield from a parish in the Leeds Episcopal area, where l was a trainee vicar. I was born in Zimbabwe (located in Southern Africa) and l am from the Shona ethnic tribe (which is a group of the Bantu peoples), and l came to England approximately 18 years ago. I have a passion for teaching and coaching chess, and in addition to being a vicar, l enjoy meeting and talking to young children (and adults of course!) and please feel free to talk to me when l visit school or when we meet in the community.
I am the vicar of St James Parish Church, as well as Christ Church Moldgreen. When l am not at the Parish Church l will be at the University of Huddersfield (where l also work as a religious leader supporting staff and students in their exploration of faith, religion or belief) or in the community.
The following is a message from St James Church to our families…
We are a friendly, family oriented open evangelical parish. Services are based on Common Worship, on the first Sunday of every month, and for special occasions, our music group lead the worship with piano, steel drums, and ukuleles. At other times, we use CD's for our music which is a mixture of contemporary songs and traditional hymns.
Our church is family friendly and wheelchair accessible with ramp access to the main doors, and a disabled toilet inside. We particularly welcome children with additional needs and autism and won't bat an eyelid if you need to move around during the service or if children make a joyful (or otherwise) noise!
We have a play pen available for smaller children and Sunday School during Holy Communion services in term time.  Microphones are used, Songs are projected on a big screen and words to services are available in printed booklets.  There are always refreshments each service.
RE links
We use visits to St James and Christ Church at nearby Moldgreen, to enhance our learning in RE and give the pupils first-hand experience of a place of worship.
Messy Church
Pupils in KS1 have the wonderful opportunity to attend 'Messy Church' with their parents during the Christmas and Easter term.
If you would like more information on regular events held at the church, please click on the following link:
https://www.achurchnearyou.com/church/18051/
Harvest 2023
This year we are supporting the CART charity (Christian African Relief Trust) with our Harvest donations. CART provide food, toiletries, first aid and other essentials to areas in need overseas.  They also fundraise to work on projects such as a new nursery building in Malawi.
As a Christian school we believe it is vital for us to help those in need and any help you can give us would be really appreciated. Attached is a list of items which would be most helpful.
NB tins are welcome but please note that they MUST be 12-18 months within use by date, otherwise the shipments are refused.
Please give any donations you can spare to your class teacher. We will be collecting from now until half term.