Church links
We strive towards our Vision through our Christian Values: Respect, Trust, Love and Compassion.
Love is patient, love is kind. It does not envy, it does not boast, it is not proud.  It does not dishonour others, it is not self-seeking, it is not easily angered, it keeps no record of wrongs.  Love does not delight in evil but rejoices with the truth.  It always protects, always trusts, always hopes, always perseveres."
1 Corinthians 13:4-8 New International Version (NIV)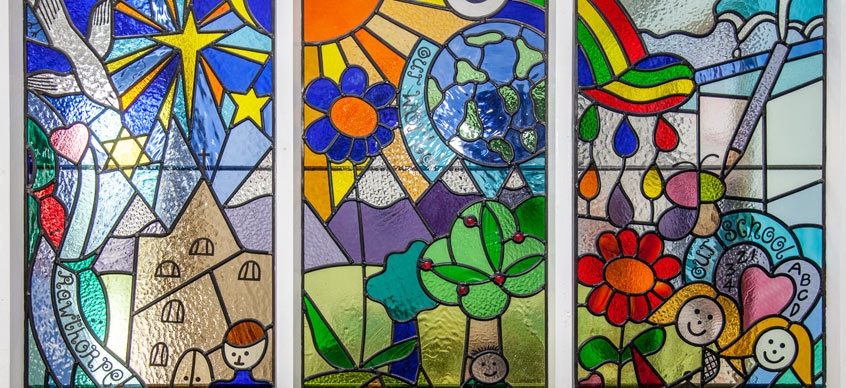 As a Church School we strive to promote a Christian ethos and develop the childrens' spiritual awareness.
As a Church School we work hard to offer:
Clearly defined Christian values that have a consistent impact on all members of the school community which is evident in the nurture of all pupils.
A strong Christian ethos that supports the learning and achievement of all pupils, particularly the most vulnerable as a result progress is good, and the majority of pupils achieve in line with or above national expectations.
Engaging collective worship and religious education (RE) so that pupils have a well-developed understanding and appreciation of the significance of Jesus Christ as well as tolerance and understanding of other faiths.
In our last SIAMS Inspection we were judged to be 'Outstanding', with the Inspector writing, "The school has identified the core Christian Values of Love, Respect, Trust and Compassion as the foundation of its Christian Ethos 'Success for All – Learning Together in God's Love'.
These values have been introduced consistently and systematically through collective worship, RE and the wider curriculum. Because they are securely embedded within the school all members of the school community have a strong understanding and appreciation of how they relate to daily life. These values and the wider Christian ethos of the school are described as permeating throughout the Campus and impacting on the broader community"
---
OUR VISION STATEMENT
We strive to provide the children at Rawthorpe St James CofE (VC) Infant & Nursery School.with an outstanding opportunity to learn in a caring, Christian setting at the heart of our community.
LEARNING
High quality teaching and learning will be at the heart of all we do. Together we will develop a collaborative use of key skills for lifelong learning.
TOGETHER
Everyone will be supported and encouraged to thrive and enjoy their learning together in a safe and secure environment guided by our Christian Values.
IN GODS LOVE
Through nurturing confidence and independence together we will sow the seeds that enable everyone to achieve their full potential and harvest their successes in God's Love.
Regular Events at the Church
MONDAY
Morning Prayer
Every Monday at 9 a.m. for 45m
1 St James Way, Rawthorpe Lane
Every Monday morning, we gather for Morning Prayer, followed by a cuppa. You are very welcome to join us!
REFRESHMENTS FAMILY FRIENDLY PRAYERS
TUESDAY
Food Bank
Every Tuesday at 10 a.m. for 2hr
1 St James Way, Rawthorpe Lane
In order to meet an increasing need that developed in our community, we offer a food bank so that there will always be something when there is a family in need. If you are struggling to get by and a bag of food would help, please pop in on Tuesday mornings or give us a ring and we will do our best to help.
If you wish to donate items, these can be dropped of at the church Mondays - Thursdays 10am - 4pm
REFRESHMENTS FAMILY FRIENDLY COMMUNITY EVENT
SUNDAY
All Age Morning Worship
Every First Sunday at 9:30 a.m. for 1hr
1 St James Way, Rawthorpe Lane
On the first Sunday of each month, we offer an All Age service using contemporary music, stories and reflections. All ages are welcome!
ALL AGE/FAMILY REFRESHMENTS FAMILY FRIENDLY MORNING WORSHIP/PRAYER MUSIC SINGING
Family Communion
Every Second, Fourth, Fifth Sunday at 9:30 a.m. for 1hr
1 St James Way, Rawthorpe Lane
On the second, fourth and fifth Sunday of every month, we offer Holy Communion and a chance to celebrate Christ's gift of love to us. Children's Church is provided, and there is a large playpen with toys in the main church. All are welcome!
REFRESHMENTS EUCHARIST/HOLY COMMUNION COMMON WORSHIP
Morning Praise
Every Third Sunday at 9:30 a.m. for 1hr
1 St James Way, Rawthorpe Lane
On the third Sunday of every month, we offer a service of Morning Praise with a little bit of extra space and time for music, along with prayers and a sermon. There is Children's Church available and also a playpen with toys in the main body of the church for the little ones. You are very welcome!
REFRESHMENTS COMMON WORSHIP FAMILY FRIENDLY MORNING WORSHIP/PRAYER MUSIC SINGING SUNDAY SCHOOL / ORGANISED CHILDREN'S ACTIVITIES
FOR MORE DETAILS ON EVENTS AND SERVICES AT ST JAMES CHURCH PLEASE FOLLOW THIS LINK: https://www.achurchnearyou.com/church/18051/