A day in the life of...
"What did you do at school today?" For any parent with a child at school it's the eternal question and perhaps it isn't always met with a clear answer. We thought it would be nice to give you a little insight into a child's school day at Rawthorpe St James CofE (VC) Infant & Nursery School.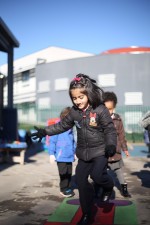 Hello, I'm in Year One at Netherhall Learning Infant School.
I am 5 years old and I love coming to school with my friends. I walk to school with my Dad and get here at 8.45. We go in and sit on the carpet to do the register and I chat to my friends.
At 9.00 we all go to Numeracy classes. I love numbers and am getting good at finding doubles. After that we all go into assembly where Mrs Coates tells us a lovely story or  we sing hymns.
Next we go and play outside. We have a snack then and my favourite is bananas.
When the bell goes we walk back in and have our milk. I like to sit with my best friend. Then we then all read and I'm trying hard to sound out and remember the tricky words. Funny stories are the best.
Next we do phonics and learn to read and spell words. This helps us for the next lesson when we do Literacy. We have started to write stories, poems and facts about animals. I am really good at rhyming and writing poems.
At 12.00 its dinnertime! I'm always hungry and like it best when we are first not last!
All of us have lots to play with outside-hoops, balls, and the parachute. Sometimes we have a challenge like how many skips can you do. It was hard but good fun!
In the afternoon there are lots of exciting things. We do ICT, PE, RE Science, Music and Click. We learn about lots of things and at the moment we are learning all about animals. A lady came to visit us and brought lots of different animals for us to meet. A chicken sat on my friend!
I am really good at painting and drawing and love it when we do this although it's tricky to draw people.
At the end of the day we have a story, get our coats on and say our prayer. Then our Mums and Dads come to pick us up and we go home. But we will be back tomorrow!